About Us
Bombay Express is a Indian takeaway in Bournemouth. Why don't you try our Patia or Prawn Puree Starter?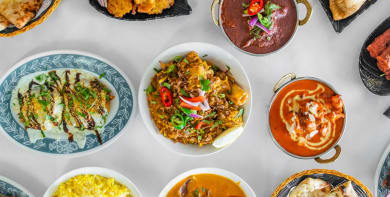 Reviews
107 reviews
Tizz
"Great food, very tasty and the delivery speed was amazing"
04/11/2020
Claire
"amazing food as always. Really enjoyed the curry as asked for it extra spicy and it did not dissapoint. The meat in the curries is always really tender."
28/10/2020
Don
"Food was delicious"
28/10/2020
Paul
"Very good Thankyou"
24/10/2020
Menu
Aloo Chat
Tangy potato dish, served with salad
£2.90
Chicken Chat
Tangy dish with herbs &  light spice, with salad
£3.40
King Prawn Butterfly
King Prawn, deep fried with egg & golden breadcrumbs
£4.95
Nargis Kebab
Boiled egg wrapped with spicy minced lamb
£3.50
Pakora Chicken
Chicken or vegetable or mushroom deep fried with gram flour to create crispy, satisfying taste
£3.20
Pakora Mushroom
Chicken or vegetable or mushroom deep fried with gram flour to create crispy, satisfying taste
£3.00
Pakora Vegetable
Chicken or vegetable or mushroom deep fried with gram flour to create crispy, satisfying taste
£3.00
Chicken Tikka Puree Starter
£3.50
Chicken Tikka Roll Starter
£3.50
Vegetable Spring Roll Starter
£2.90
Masala Chicken Tikka
Marinated pieces cooked in a rich & creamy sauce
£6.50
Masala Lamb TIkka
Marinated pieces cooked in a rich & creamy sauce
£7.50
Masala King Prawn
Marinated pieces cooked in a rich & creamy sauce
£7.95
Masala Tandoori King Prawn
Marinated pieces cooked in a rich & creamy sauce
£9.95
Masala Vegetable
Marinated pieces cooked in a rich & creamy sauce
£6.00
Masala Chicken Tikka with Cheese
Marinated pieces cooked in a rich & creamy sauce
£7.50
Masala Paneer
Marinated pieces cooked in a rich & creamy sauce
£6.50
Pasanda Chicken
Cooked with yoghurt, cream, nuts & sultanas, mild & rich
£6.50
Pasanda Lamb
Cooked with yoghurt, cream, nuts & sultanas, mild & rich
£6.90
Pasanda Prawn
Cooked with yoghurt, cream, nuts & sultanas, mild & rich
£6.50
Pasanda King Prawn
Cooked with yoghurt, cream, nuts & sultanas, mild & rich
£9.30
Pasanda Chicken Tikka
Cooked with yoghurt, cream, nuts & sultanas, mild & rich
£7.00
Pasanda Lamb Tikka
Cooked with yoghurt, cream, nuts & sultanas, mild & rich
£7.50
Pasanda Vegetable
Cooked with yoghurt, cream, nuts & sultanas, mild & rich
£5.00
Balti Special Chicken
This dish is made to suit your taste
£6.50
Balti Special Lamb
This dish is made to suit your taste
£7.00
Balti Special Chicken Tikka
This dish is made to suit your taste
£8.75
Balti Special Lamb Tikka
This dish is made to suit your taste
£7.00
Balti Special Prawn
This dish is made to suit your taste
£6.50
Balti Special King Prawn
This dish is made to suit your taste
£9.30
Balti Special Vegetable
This dish is made to suit your taste
£5.50
Korai Chicken Tikka
Cooked with garlic & onions, green peppers & tomatoes
Medium
£6.50
Korai Lamb Tikka
Cooked with garlic & onions, green peppers & tomatoes
Medium
£7.00
Korai King Prawn
Cooked with garlic & onions, green peppers & tomatoes
Medium
£8.00
Korai Tandoori King Prawn
Cooked with garlic & onions, green peppers & tomatoes
Medium
£9.50
Korai Vegetable
Cooked with garlic & onions, green peppers & tomatoes
Medium
£6.00
Jalfrezi Chicken
Cooked with fresh green chilli
Fairly hot
£6.50
Jalfrezi Lamb
Cooked with fresh green chilli
Fairly hot
£7.00
Jalfrezi Chicken Tikka
Cooked with fresh green chilli
Fairly hot
£6.75
Jalfrezi Lamb Tikka
Cooked with fresh green chilli
Fairly hot
£7.50
Jalfrezi Prawn
Cooked with fresh green chilli
Fairly hot
£65.00
Jalfrezi King Prawn
Cooked with fresh green chilli
Fairly hot
£9.50
Jalfrezi Vegetable
Cooked with fresh green chilli
Fairly hot
£5.50
Curry Chicken
Balanced range of spices & a standard flavour
Medium
£5.95
Curry Lamb
Balanced range of spices & a standard flavour
Medium
£6.50
Curry Chicken Tikka
Balanced range of spices & a standard flavour
Medium
£6.50
Curry Lamb Tikka
Balanced range of spices & a standard flavour
Medium
£6.95
Curry Prawn
Balanced range of spices & a standard flavour
Medium
£6.50
Curry King Prawn
Balanced range of spices & a standard flavour
Medium
£9.50
Curry Vegetable
Balanced range of spices & a standard flavour
Medium
£5.00
Curry Paneer
Balanced range of spices & a standard flavour
Medium
£6.00
Bhuna Chicken
Medium. Highly recommended cooked with onion & herbs
£5.95
Bhuna Lamb
Medium. Highly recommended cooked with onion & herbs
£6.50
Bhuna Chicken Tikka
Medium. Highly recommended cooked with onion & herbs
£6.50
Bhuna Lamb Tikka
Medium. Highly recommended cooked with onion & herbs
£6.95
Bhuna Prawn
Medium. Highly recommended cooked with onion & herbs
£6.50
Bhuna King Prawn
Medium. Highly recommended cooked with onion & herbs
£9.50
Bhuna Vegetable
Medium. Highly recommended cooked with onion & herbs
£5.00
Bhuna Paneer
Medium. Highly recommended cooked with onion & herbs
£6.00
Madras Chicken
Prepared with garlic, chilli & tomato puree
Fairly hot
£5.95
Madras Lamb
Prepared with garlic, chilli & tomato puree
Fairly hot
£6.50
Madras Chicken Tikka
Prepared with garlic, chilli & tomato puree
Fairly hot
£6.50
Madras Lamb Tikka
Prepared with garlic, chilli & tomato puree
Fairly hot
£6.95
Madras Prawn
Prepared with garlic, chilli & tomato puree
Fairly hot
£6.50
Madras King Prawn
Prepared with garlic, chilli & tomato puree
Fairly hot
£9.50
Madras Vegetable
Prepared with garlic, chilli & tomato puree
Fairly hot
£5.00
Madras Paneer
Prepared with garlic, chilli & tomato puree
Fairly hot
£6.00
Vindaloo Chicken
Most extravagantly hot! Only suitable for those with a strong constitution, very hot
£6.45
Vindaloo Lamb
Most extravagantly hot! Only suitable for those with a strong constitution, very hot
£7.00
Vindaloo Chicken Tikka
Most extravagantly hot! Only suitable for those with a strong constitution, very hot
£7.00
Vindaloo Lamb Tikka
Most extravagantly hot! Only suitable for those with a strong constitution, very hot
£7.45
Vindaloo Prawn
Most extravagantly hot! Only suitable for those with a strong constitution, very hot
£7.00
Vindaloo King Prawn
Most extravagantly hot! Only suitable for those with a strong constitution, very hot
£10.00
Vindaloo Vegetable
Most extravagantly hot! Only suitable for those with a strong constitution, very hot
£5.50
Vindaloo Paneer
Most extravagantly hot! Only suitable for those with a strong constitution, very hot
£6.50
Tindaloo Chicken
Very, very hot
£6.95
Tindaloo Lamb
Very, very hot
£7.50
Tindaloo Chicken Tikka
Very, very hot
£7.50
Tindaloo Lamb Tikka
Very, very hot
£7.95
Tindaloo Prawn
Very, very hot
£7.50
Tindaloo King Prawn
Very, very hot
£10.50
Tindaloo Vegetable
Very, very hot
£6.00
Tindaloo Paneer
Very, very hot
£7.00
Phall Chicken
Extremely hot
£6.95
Phall Chicken Tikka
Extremely hot
£7.50
Phall Lamb Tikka
Extremely hot
£7.95
Phall Prawn
Extremely hot
£7.50
Phall King Prawn
Extremely hot
£10.50
Phall Vegetable
Extremely hot
£6.00
Phall Paneer
Extremely hot
£7.00
Korma Chicken
A delicate preparation of yoghurt & cream, producing a very mild, creamy sauce
£5.95
Korma Lamb
A delicate preparation of yoghurt & cream, producing a very mild, creamy sauce
£6.50
Korma Chicken Tikka
A delicate preparation of yoghurt & cream, producing a very mild, creamy sauce
£6.50
Korma Lamb Tikka
A delicate preparation of yoghurt & cream, producing a very mild, creamy sauce
£6.95
Korma Prawn
A delicate preparation of yoghurt & cream, producing a very mild, creamy sauce
£6.50
Korma King Prawn
A delicate preparation of yoghurt & cream, producing a very mild, creamy sauce
£9.50
Korma Vegetable
A delicate preparation of yoghurt & cream, producing a very mild, creamy sauce
£5.00
Korma Paneer
A delicate preparation of yoghurt & cream, producing a very mild, creamy sauce
£6.00
Rogan Josh Chicken
Cooked with herbs & garnished with onion & tomato
Fairly hot
£5.95
Rogan Josh Lamb
Cooked with herbs & garnished with onion & tomato
Fairly hot
£6.50
Rogan Josh Chicken Tikka
Cooked with herbs & garnished with onion & tomato
Fairly hot
£6.50
Rogan Josh Lamb Tikka
Cooked with herbs & garnished with onion & tomato
Fairly hot
£6.95
Rogan Josh Prawn
Cooked with herbs & garnished with onion & tomato
Fairly hot
£6.50
Rogan Josh King Prawn
Cooked with herbs & garnished with onion & tomato
Fairly hot
£9.50
Rogan Josh Vegetable
Cooked with herbs & garnished with onion & tomato
Fairly hot
£5.00
Rogan Josh Paneer
Cooked with herbs & garnished with onion & tomato
Fairly hot
£6.00
Dansak Chicken
Cooked with lentils, garlic, lemon & sugar giving a hot, sweet & sour taste
£5.95
Dansak Lamb
Cooked with lentils, garlic, lemon & sugar giving a hot, sweet & sour taste
£6.50
Dansak Chicken Tikka
Cooked with lentils, garlic, lemon & sugar giving a hot, sweet & sour taste
£6.50
Dansak Lamb Tikka
Cooked with lentils, garlic, lemon & sugar giving a hot, sweet & sour taste
£6.95
Dansak Prawn
Cooked with lentils, garlic, lemon & sugar giving a hot, sweet & sour taste
£6.50
Dansak King Prawn
Cooked with lentils, garlic, lemon & sugar giving a hot, sweet & sour taste
£9.50
Dansak Vegetable
Cooked with lentils, garlic, lemon & sugar giving a hot, sweet & sour taste
£5.00
Dansak Paneer
Cooked with lentils, garlic, lemon & sugar giving a hot, sweet & sour taste
£6.00
Pathia Chicken
A hot, sweet & sour taste cooked with garlic, onion, chilli & black pepper
£5.95
Pathia Lamb
A hot, sweet & sour taste cooked with garlic, onion, chilli & black pepper
£6.50
Pathia Chicken Tikka
A hot, sweet & sour taste cooked with garlic, onion, chilli & black pepper
£6.50
Pathia Lamb Tikka
A hot, sweet & sour taste cooked with garlic, onion, chilli & black pepper
£6.95
Pathia Prawn
A hot, sweet & sour taste cooked with garlic, onion, chilli & black pepper
£6.50
Pathia King Prawn
A hot, sweet & sour taste cooked with garlic, onion, chilli & black pepper
£9.50
Pathia Vegetable
A hot, sweet & sour taste cooked with garlic, onion, chilli & black pepper
£5.00
Pathia Paneer
A hot, sweet & sour taste cooked with garlic, onion, chilli & black pepper
£6.00
Ceylon Chicken
Hot, sweet & sour taste. Cooked with coconut, lemon & sugar
£5.95
Ceylon Lamb
Hot, sweet & sour taste. Cooked with coconut, lemon & sugar
£6.50
Ceylon Chicken Tikka
Hot, sweet & sour taste. Cooked with coconut, lemon & sugar
£6.50
Ceylon Lamb Tikka
Hot, sweet & sour taste. Cooked with coconut, lemon & sugar
£6.95
Ceylon Prawn
Hot, sweet & sour taste. Cooked with coconut, lemon & sugar
£6.50
Ceylon King Prawn
Hot, sweet & sour taste. Cooked with coconut, lemon & sugar
£9.50
Ceylon Vegetable
Hot, sweet & sour taste. Cooked with coconut, lemon & sugar
£5.00
Ceylon Paneer
Hot, sweet & sour taste. Cooked with coconut, lemon & sugar
£6.00
Dopiaza Chicken
Medium to sweet taste. Cooked with lots of onion
£5.95
Dopiaza Lamb
Medium to sweet taste. Cooked with lots of onion
£6.50
Dopiaza Chicken Tikka
Medium to sweet taste. Cooked with lots of onion
£6.50
Dopiaza Lamb Tikka
Medium to sweet taste. Cooked with lots of onion
£6.95
Dopiaza Prawn
Medium to sweet taste. Cooked with lots of onion
£6.50
Dopiaza King Prawn
Medium to sweet taste. Cooked with lots of onion
£9.50
Dopiaza Vegetable
Medium to sweet taste. Cooked with lots of onion
£5.00
Dopiaza Paneer
Medium to sweet taste. Cooked with lots of onion
£6.00
Malaya Chicken
Cooked with mixed fruit, rich & mild
£5.95
Malaya Lamb
Cooked with mixed fruit, rich & mild
£6.50
Malaya Chicken Tikka
Cooked with mixed fruit, rich & mild
£6.50
Malaya Lamb Tikka
Cooked with mixed fruit, rich & mild
£6.95
Malaya Prawn
Cooked with mixed fruit, rich & mild
£6.50
Malaya King Prawn
Cooked with mixed fruit, rich & mild
£9.50
Malaya Vegetable
Cooked with mixed fruit, rich & mild
£5.00
Malaya Paneer
Cooked with mixed fruit, rich & mild
£6.00
Saag Chicken
A medium dish, cooked with spinach
£5.95
Saag Lamb
A medium dish, cooked with spinach
£6.50
Saag Chicken Tikka
A medium dish, cooked with spinach
£6.50
Saag Lamb Tikka
A medium dish, cooked with spinach
£6.95
Saag Prawn
A medium dish, cooked with spinach
£6.50
Saag King Prawn
A medium dish, cooked with spinach
£9.50
Saag Vegetable
A medium dish, cooked with spinach
£5.00
Saag Paneer
A medium dish, cooked with spinach
£6.00
Ceylon Tandoori Chicken (On the Bone)
Bhuna Tandoori Chicken (On the Bone)
Dupiaza Tandoori Chicken (On the Bone)
Dhansak Tandoori Chicken (On the Bone)
Kashmir Tandoori Chicken (On the Bone)
Korma Tandoori Chicken (On the Bone)
Madras Tandoori Chicken (On the Bone)
Phal Tandoori Chicken (On the Bone)
Rogan Tandoori Chicken (On the Bone)
Patia Tandoori Chicken (On the Bone)
Vindaloo Tandoori Chicken (On the Bone)
Saag Tandoori Chicken (On the Bone)
Tindaloo Tandoori Chicken (On the Bone)
Chilli Chicken
One of the most popular dishes in India. An authentic dish with lots of flavour. Served in 500cc containers
£6.75
Chilli Paneer
One of the most popular dishes in India. An authentic dish with lots of flavour. Served in 500cc containers
£6.75
Royal Chicken Korma
Extra rich with grounded almonds & cashew nuts
Served in 500cc containers
£6.99
Royal Chicken Tikka Masala
Extra rich with grounded almonds & cashew nuts
Served in 500cc containers
£6.99
Garlic Chilli Chicken
Fairly hot, cooked with garlic, green pepper & fresh green chilli
£6.75
Chicken Tawa
Cooked with mixed spices, garlic, coriander & cheese
£6.75
Chicken Makhani
Cooked with mild spices, coconut, nuts, onion & cream
Mild
£6.75
Butter Chicken
Cooked in butter with spices & cream, served in a rich sauce
£6.75
Butter Lamb
Cooked in butter with spices & cream, served in a rich sauce
£6.75
Modhu Margh
Tender chicken, flavoured with herbs & ground spices in a butter sauce, cooked with honey
£6.75
Mixed Kebab Masala
Chicken tikka, lamb tikka, seekh kebab & king prawn cooked in a rich creamy sauce
£7.95
Murgh Masala
Spring chicken cooked with mince meat & Scotch egg
Medium
£6.75
Chicken Bombay
Marinated chicken cooked with medium spices & Scotch egg
£6.75
Chicken Salli
Medium spiced cooked with onion & tomato with crispy potatoes
£6.75
Achari Chicken
Medium sauce with special mango achar
£6.75
Achari Lamb
Medium sauce with special mango achar
£6.75
Bollywood Special Shashlik
Combination of onion, green peppers, tomato, chicken & lamb barbecued on skewers in the tandoori, cooked in a special medium sauce
£7.00
Tikka Bhuna Masala Chicken
Cooked with extensive spices & touch of chefs masala sauce & herbs, making it rich & spicy medium hot
£7.00
Tikka Bhuna Masala Lamb
Cooked with extensive spices & touch of chefs masala sauce & herbs, making it rich & spicy medium hot
£7.00
Pudina Chicken
Medium spices with a maximum of flavour cooked with fresh mint & spices
£6.75
Pudina Lamb
Medium spices with a maximum of flavour cooked with fresh mint & spices
£6.75
Chom Chom Chicken
Cooked with almonds, butter, fresh cream & mango pulp
£6.75
Gulapi Chicken Tikka
Cooked with a blend of 5 different chillies
Vindaloo hot
£6.75
Mango Delight Chicken
Mild & sweet dish with mango, coconut & almond powder
Medium
£6.75
Mango Delight Lamb
Mild & sweet dish with mango, coconut & almond powder
Medium
£6.75
Akbori Chicken
Cooked with green & red peppers & onions
£6.75
Akbori Lamb
Cooked with green & red peppers & onions
£6.75
Lucknow Chicken
Cooked with creamy sauce & mushrooms
£6.75
Lucknow Lamb
Cooked with creamy sauce & mushrooms
£6.75
Lamb Kofta Bhuna
Minced lamb balls cooked with peppers, baby potatoes, tomatoes with herbs & aromatic spices
£7.95
Naga Chicken
Cooked with aromatic & exotic naga chilli. Pleasingly balanced & spicy
£6.75
Naga Lamb
Cooked with aromatic & exotic naga chilli. Pleasingly balanced & spicy
£6.75
Saag Aloo
Spinach & potato
£2.95
Aloo Gobi
Potato & cauliflower
£2.95
Tarka Daal
Lentil & fried garlic
£2.95
Saag Paneer
Spinach & cheese
£3.30
Saag Chana
Spinach & chickpeas
£3.25
Mattar Paneer
Peas & cheese
£3.30
Tandoori Chicken Tikka Main
Off the bone
£6.50
Tandoori Chicken Shashlik
Diced onion, green pepper & tomato with blended ginger & garlic
£7.50
Tandoori Lamb Tikka Shashlik
£8.00
Tandoori King Prawn Shashlik
£10.95
Tandoori Mixed Grill
Contains tandoori chicken, chicken tikka, lamb tikka & seekh kebab, served with naan bread
£8.00
Tandoori King Prawn Tikka
£10.95
Set Meal B For 2
Poppadoms
Chicken tikka
Onion bhaji
Chicken biryani
Chicken tikka masala
Aloo gobi
Pilau rice
Keema naan
£22.00
Set Meal C For 2
Aloo chaat
Onion bhaji
Vegetable biryani
Vegetable korma
Pilau rice
Bombay potatoes
Mushroom bhaji
Poppadom
Naan
£23.50
Set Meal A For 4
Any 2 naans
3 pilau rice
Any 2 side dishes
Any 4 starters
Any 4 curries (excluding king prawns, mixed kebabs & signature dishes)
Please write your choice of curries in the comments box)
£46.00
Keema (Minced Meat ) & Peas Biryani
£8.99
Peshwari Naan
Coconut & sultanas
£2.50
Special Naan
Cheese, chilli & mince meat
£3.50
Non-Vegetarian Thali
Meat samosa, chicken bhuna, pilau rice, naan & poppadom
£12.00
Vegetarian Thali
Vegetable samosa, vegetable curry, cauliflower bhaji, pilau rice, naan & poppadom
£11.00
Mixed Fried Rice
Prawn, egg & peas
£3.50
Banquet Special Regular
Any 2 starters
Any 2 curries
Any naan
Bombay potatoes, 1 pilau rice, 2 poppadoms, onion salad, mango chutney & mint sauce
Served in 500cc container
£19.00
Banquet Special Signature Dishes
Any 2 starters
Any 2 curries
Any naan
Bombay potatoes, 1 pilau rice, 2 poppadoms, onion salad, mango chutney & mint sauce
Served in 500cc container
£20.00
Banquet Special Biryani Dishes
Any 2 starters
Any 2 curries
Any naan
Bombay potatoes, 1 pilau rice, 2 poppadoms, onion salad, mango chutney & mint sauce
Served in 500cc container
£21.00
Banquet Special King Prawn
Any 2 starters
Any 2 curries
Any naan
Bombay potatoes, 1 pilau rice, 2 poppadoms, onion salad, mango chutney & mint sauce
Served in 500cc container
£23.00
Contact Us
Find Us
917 Wimborne Road, Bournemouth, BH92BJ
We deliver to
B24, BH1, BH10, BH11, BH12, BH13, BH14, BH15, BH17, BH2, BH21, BH22, BH23, BH3, BH4, BH5, BH6, BH7, BH8, BH9